ACME Chapters
Our ACME members and partners are organizing to form local ACME chapters all over the North American continent, to focus on local media-related initiatives. We will make space available for these new chapters to inform our members about our local organizational efforts, projects, and successes.
Boston

St. Louis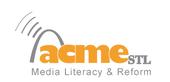 Vermont
Start An ACME Chapter
See details on how to
Start your own ACME Chapter today!